History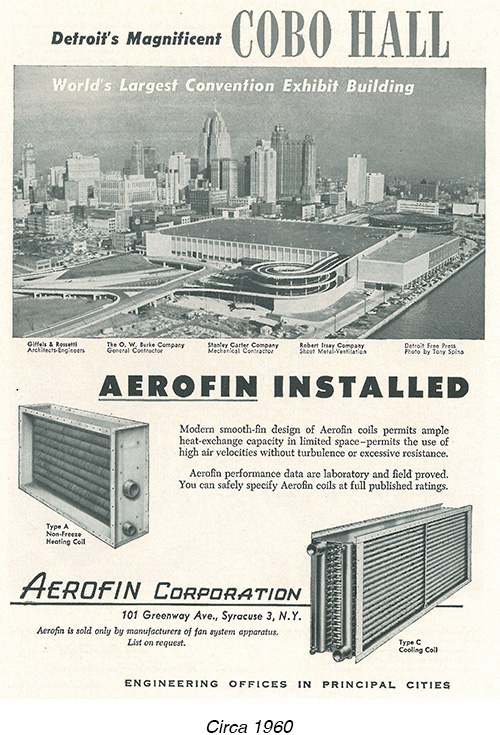 Aerofin Corporation was formed in 1923 when it was incorporated in Newark, New Jersey. Aerofin was formed by four major companies: Carrier, Westinghouse Sturdivent Division, American Blower, and Buffalo Forge Co. The company was formed to manufacture commercial light weight heat exchangers for the four parent companies. Aerofin manufactured coils using a spiral wound finned tube design, and products were used mainly for heating and cooling air.
For approximately thirty years, Aerofin manufactured coils in Syracuse, New York. Then in the 1950's, several changes were made with the structure and ownership of Aerofin. Buffalo Forge Company bought out the other co-owners of Aerofin, making it a wholly owned subsidiary of Buffalo Forge Company. Aerofin moved into its own manufacturing facility on Greenway Avenue in Syracuse, New York. In addition to this facility, Aerofin had a small manufacturing plant in Gananoque, Ontario, Canada that manufactured coils for the Canadian market. This plant was closed in the 80's after the tariff between Canada and the US was phased out and all manufacturing was shifted to Lynchburg, Virginia.
A major change occurred in 1965 when Aerofin made the decision to move to Lynchburg, Virginia and started construction on a 100,000 square foot manufacturing facility. The new plant was completed in 1966 and Aerofin started shipping from the Lynchburg facility that same year. Since then, the plant has had two expansions and now totals over 165,000 square feet.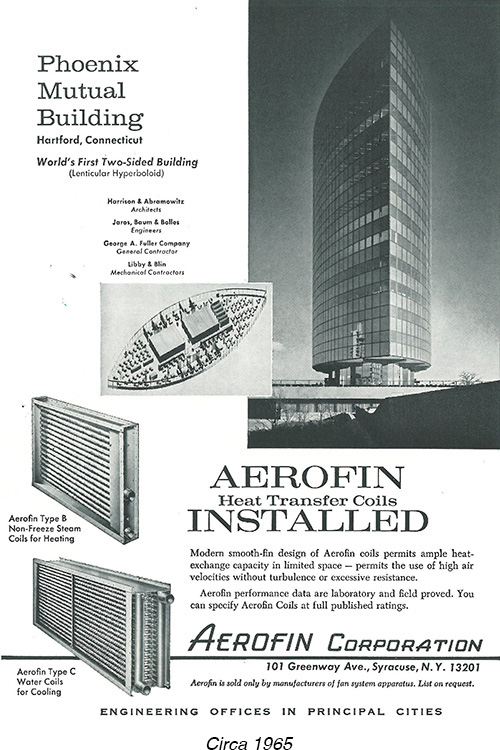 Ownership changed again in 1981 when Ampco Pittsburgh, a holding company located in Pittsburgh, Pennsylvania, bought Buffalo Forge Company and all of its subsidiaries. In 2010, Ampco Pittsburgh realigned, with Aerofin becoming a division of Air and Liquid Systems under Ampco Pittsburgh. 
The types of products manufactured by Aerofin have changed significantly since the company was founded. In the beginning, Aerofin manufactured only standard coils for the HVAC market. In the1950's, Aerofin started building coils for the industrial and power industry. This change resulted in Aerofin obtaining the ASME U-Stamp because many companies required the code stamp and customer inspection. In the late 70's and early 80's, Aerofin obtained the N-Stamp to become a major supplier of N-Stamped coils for the nuclear market. In the early 90's, Aerofin purchased the assets of Energy Flow in order to obtain plate fin capabilities. 
Today Aerofin has one of the widest range of finned tube products of any coil manufacturer.